Comments are screened.


You can also submit your questions by emailing fandomgrammar@gmail.com
Comment here with any questions you have about writing, grammar, and language. Please also let us know if we have permission to use your name when one of our Fandom Grammarians answers your question in one of our weekly posts.
Today's set of easily confused words is as mellifluous as it is puzzling. We'll try to clarify the situation with the help of the Knight of Lost Words, October ("Toby") Daye, and her friends.
(
All right, let's go!
Collapse
)
Current Mood:

exhausted
Incidental Comics
offers up a slew of new proofreader's marks for consideration. I happen to be down with all of them, especially the cyclopsis, horribly wrong font, and word tornado options.
Proofreader's Marks
Grant Snider over at
Current Mood:

amused
Today we're going to look at
decent
and
descent
, two words that are often mistaken for one another because their spellings are so similar. With examples from
the Avengers and Star Trek.
Happy Monday, grammar friends, and welcome to our next look at a pair of Commonly Confused Words!
Hello, and welcome to another article on Commonly Confused Words! Today's topic is a pair of words that I confuse all the time, so I thought I'd settle it once and for all: what is the difference between "appraise" and "apprise", and what are some ways to remember which is which?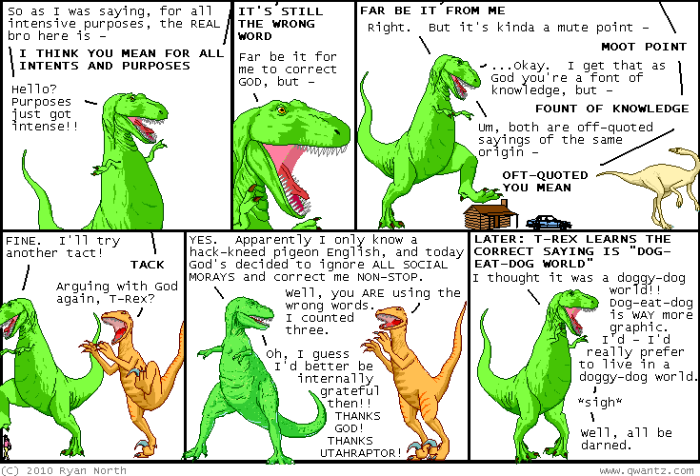 Hover text: later still: wait, HOW DID UTAHRAPTOR KNOW?
Malapropisms (replacing one word with an incorrect, similar-sounding word, usually in a way that ends up being funny) and mondegreens (sort of like malapropisms, except you mis-hear a word instead of saying the wrong word) are something many of the grammarians see and hear at their jobs. That said, thanks to Ryan North at
Dinosaur Comics
,I doubt anyone can do them as well as T-Rex.
So, do you have any favorite malapropisms or mondegreens? Mine is "from the gecko" (instead of "from the get-go"). I keep imagining the Geico insurance company's spokeslizard—or maybe even a tiny, tiny T-Rex. Adorable!
Welcome to this Fandom Grammar post on commonly confused words. We have a list of four for you today: alley; ally; allay; and alloy. Our fannish examples will come from NBC Hannibal. May I